My College Diary
by Julie Nixon Eisenhower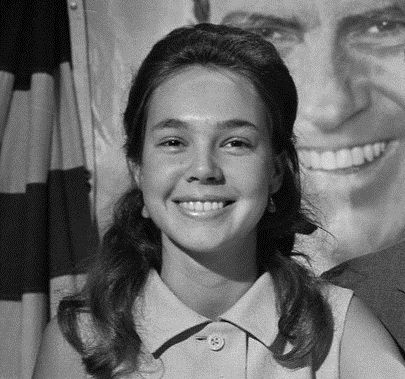 I WAS A NINETEEN-YEAR-OLD SOPHOMORE at Smith College when the campaign of '68 began. In January, the month my father declared his candidacy, I started keeping a diary. Throughout the campaign, I led an almost double life—on campus I could not escape sensing the hostility felt towards my father and his campaign, yet, while campaigning, the enthusiasm and excitement were overwhelming.

I traveled to thirty-three states, and I'll never forget some of the receptions where my family stood in line for four hours at a time to shake hands with all the people who came to see my father—with two three-minute breaks at most. Nor will I ever forget the mood of ugliness and desperation that gripped the country through that tumultuous spring, summer, and fall.

I kept the diary as a kind of companion through everything, a place in which I could express feelings both of joy and despair—feelings that were difficult to share with the people I knew at Smith. Looking back, I realize how important the diary was to me, and how faithfully I recorded my real emotions concerning the events swirling around me and my family. A typical entry dated April 17, 1968, reads:
It seems as if it takes something special to make me sit down and write. I have so many thoughts now—how hard it is to commit them to paper, how inactive I feel. I want to help more with the campaign. There are many girls on this campus who are doing more work for [Eugene] McCarthy than I'm doing for my father. And I keep thinking how much I dislike being here at Smith.

I am very emotional tonight. It's been a strange day—a day when I thought I was on top of the world, planning my life. I planned all of my courses for the rest of the semester at Smith, and talked to my advisor about honoring in History. Then came a disturbing dinner with my proseminar teacher and the class. I have always felt uneasy about him, tonight was no exception. He makes me feel like Julie NIXON. He'll be talking, and then he'll throw in the wrench. I asked him if he didn't think writing a book was hard work. His reply: "Why don't you ask your father."

I saw David for a few minutes before he had to go to Zumbyes [his college singing group]. Then I foolishly decided to go to the government department's mock Republican Convention. It was hell on earth for me. My friend Marsha Cohen was asked to give RN's speech, because there were no volunteers. As she spoke the word "selflessly," it came out "selfishly worked for his party." The audience loved it . And then another laugh when she praised Daddy. I just couldn't bear it. I was sitting in the back of the room, and walked out.

I tried to rationalize on the way back to the dorm. I realize that the whole mock convention is a joke; I realize that this is a McCarthy campus—and yet—that's my father they are reacting to and judging. I know why I went—it wasn't for self-torture; it was because I had a secret hope that perhaps there would be a genuine response for my father.

I am so pessimistic about this election. It is so difficult for me to believe that there is a deep and sincere feeling for my father outside of Smith-Amherst. I am always surprised by the reception he receives [on the campaign]. I can't help it. The world I live in dominates my outlook.

Marsha Cohen called me an hour after I left [the mock convention]. She heard from someone that I had walked out. Marsha is very liberal, yet she has always been one of the nicest girls in the dorm to me. Around her, I feel completely natural. She said something very beautiful on the phone. She said that people often accuse politicians of being selfish, and they do not realize how much they have to give of themselves; they do not realize that politicians have feelings too.

This mock convention episode isn't such a crisis in itself. It's just that it confirms what I have believed about Smith, and more importantly, it is the culmination of a lot of things I have been experiencing lately. Like yesterday at lunch, when the Curriculum Committee Representative asked for a girl to serve as Young Republican Representative for Baldwin [my dorm]. When there was no response, she said, "Aren't there any staunch Republicans?" Still no response, and no representative.

I hate being a celebrity—and I use that word hesitantly. I am a "celebrity" only in that I am stared at when I walk on campus, eyes and heads turn. Sometimes, when I am speaking, I feel as if people were taking mental notes. And sometimes I feel so disgusted later when I have put on a show.

I am wondering, and doubting—whether another school, a Republican school, is the answer. I realize that it's not. I also realize that most of the girls in Baldwin House have problems comparable in degree to mine. If it weren't the problem of politics for me, it would be another. And yet, sometimes it's so difficult. And I feel sorry for myself. And then hate myself for this feeling of self-pity.
from The Sixties (1977), edited by Lynda Rosen Obst
---