Nixon Remembered for Kindnesses to Seattle Woman
by columnist Erik Lacitis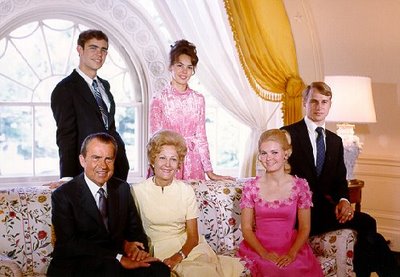 IN JANUARY 1996, Karen Olson finally wrote the letter to Julie Nixon Eisenhower that for years she had wanted to write. It was a letter full of anecdotes, and one of them was this one: "Last weekend, two teenage friends of our daughters spent the night at our house. Erika, our 16-year old, told them that Nixon sat on our couch and visited me long ago when I was a teen-ager. They came to me to check out Erika's story. I shared with them that it is true and showed them my Nixon album. I love to tell people about the kindness of your father."

Not long ago, Karen Olson also wrote me a letter about Nixon, after I mentioned the 25th anniversary of Watergate. I had received a number of angry letters about Nixon. I doubt any other president is remembered with such vitriol.

"Nixon was an evil man..," said one letter writer. "The people kicked him out of office, and when he died, he went straight to hell."

Then I read the letter from Karen Olson. That's how we ended up looking through her memory box devoted to Nixon, where she still has the locket she wore when Nixon visited her home.

Olson now is 48. In 1960, when she was attending sixth grade at Ravenna Elementary, she decided to write a letter to the vice president. "My hobby was writing to politicians, and I was fascinated by Nixon after watching him on TV in that kitchen debate with Khrushchev," she remembered.

That was during the Cold War, when Vice President Nixon visited the Soviet Union and was captured by the cameras arguing the benefits of capitalism. To her surprise, Olson (who then was Karen Anderson), received a reply from the vice president. Perhaps it was a form letter, but there were enough touches, such as "extend my thanks to your parents for their fine support also," for Olson to assume it was a personal reply. Maybe, Olson decided, Nixon was writing back because she was so close in age to Julie Nixon.

Olson began writing more letters - when Nixon was hospitalized with knee infection, when he lost the presidential election to John Kennedy, when he was coming to Seattle as a private citizen to attend the 1962 Seattle World's Fair. Each time, he wrote back, short replies, but again, obviously not form letters. To her dismay, over the years Olson has lost some of those Nixon letters.

In that 1962 letter, Olson wrote how she wished she could attend a Nixon book signing in Seattle, but she was recovering from foot surgery. On Aug. 9, 1962, Olson's mom woke her. A call had come in. Richard Nixon was going to visit their home. A couple of mornings later, a car with Nixon pulled up to the Ravenna rambler. Olson remembered how Nixon talked to each nervous neighborhood kid and made them at feel at ease, spending an hour with them.

"I remember him saying that we might think the next kid is smarter than we are, but that studying and hard work makes the difference," Olson said. She recalled how Nixon told the kids, "Keep fighting." It was, probably, a true reflection of Richard Nixon's outlook on life.

Through the years, as she went to junior high, high school and then college, Olson attended various local Republican events that hosted Nixon. He'd spot her and remember her name and chat about her life.

Olson was devastated when Nixon resigned the presidency in disgrace. But then she decided, "We all make mistakes, we all get caught up in things we regret later. I think we need to forgive people." Her last letter to Nixon was in 1991, three years before he died. He never wrote back, but Olson doesn't mind. She had never expected the small kindnesses he had already extended.

Olson wrote all this to Julie Nixon Eisenhower. A month later, she received a handwritten reply, saying that Olson's letter would be included in the Nixon Library. "I treasure your friendship," the president's daughter said. In his waning days, I'm sure Richard Nixon pondered how history would remember him. I hope that he remembered that during his years in public life, in many small ways that history books don't count, he did just fine.
from the Seattle Times (published on June 29, 1997)

---