Part One: Meeting Richard Nixon, or Plumbing on the Brain
by Barbara Kriss
(from Famosity)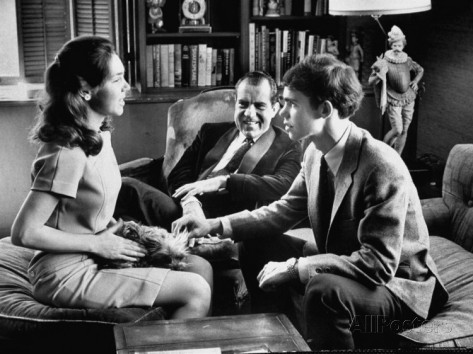 It was summer, 1967. I was eighteen years old and about to begin my freshman year at Smith College. I lived in Rockville Centre, a suburb of New York City, with my solidly Democratic parents and two younger sisters. Richard Nixon lived not far away, on Fifth Avenue in Manhattan, with his wife, Pat, and daughters, Julie and Tricia. He practiced law at his firm, Nixon, Mudge, Rose, Guthrie & Alexander, and he bided his time. He intended to run again for President of the United States.
Though I lived geographically close to the Nixons, we were worlds apart. Nixon had served as Vice President for two terms under Eisenhower and his daughters had grown up virtually in the shadow of the White House. My father was a German refugee and my mother the daughter of poor Russian immigrants. I was about to become the first in the family to attend college, a Seven Sisters school, no less. I'd navigated high school well, but I had no idea how I'd fare among the daughters of the elite. Then a letter arrived. It was from Julie Nixon.
Julie wrote that she would be my "big sister" at Smith. She was entering her sophomore year and lived in the dorm to which I'd been assigned, Baldwin House. I later learned that big sisters were chosen according to geographic proximity, in the hope that incoming students would have a chance to meet their new mentors before school began. Her job, Julie said, was to help ease my transition to college life.
Her letter brimmed with advice—about New England weather, appropriate attire (she favored skirts)—and she encouraged me to ask her any and all questions I might have. The letter ended with an invitation to join her for dinner at her family's New York apartment.
Talk about an offer I couldn't refuse. Here was a chance to get an inside glimpse of the life of someone powerful and famous. Nixon wasn't a man I admired, far from it, but even then famosity had its hold on me and I was excited by the prospect of seeing how he and his family lived. At the same time, I was terrified. I wondered what to wear, how to behave, what to say. I imagined myself committing some dreadful faux pas that would haunt me forever after. But not for a minute did I consider turning down the invitation.
Both my mother and I considered a new outfit de rigeur for the upcoming occasion. But what should it be? After much shopping, we settled on a wool suit from B. Altman, with a short jacket and A-line skirt in a rust, gold, and black plaid pattern. We completed the ensemble with a black long-sleeved Danskin top.
On the appointed day in early September, I made the thirty-five minute trip from Rockville Centre to Penn Station on the Long Island Railroad. From there, I took a taxi to the Nixons' apartment at 810 Fifth Avenue. Just taking a cab by myself was a new and heady experience. I'd been tutored by my dad on how to tip. I felt very grown-up and incredibly young at the same time.
The doorman directed me to the elevator. I'd been in a doorman apartment before, when I'd visited my cousin on the Upper East Side. But I'd never had an elevator experience like the one that awaited me. When the elevator doors opened on the fifth floor, they opened directly into the Nixon's apartment. It seemed the height of luxury.
When I stepped out of the elevator, Julie, her sister, Tricia, and their mother were waiting to greet me. They ushered me into a darkly-furnished foyer and were very gracious in making me feel welcome. Mrs. Nixon wanted to know if I'd had any trouble finding the place and Julie told me how glad she was to meet me. Mrs. Nixon said she wished her husband could join us for dinner, but he had to give a speech at the Harvard Club that evening. Just then, the Vice President himself strode into the foyer.
With an enthusiasm I would come to know and appreciate, Julie introduced me to her father.
"Daddy, I'd like you to meet Barbara. She'll be a freshman this year at Smith and she'll be living in Baldwin House. She's my little sister!"
Nixon shook my hand. "Has Julie warned you about the plumbing in Baldwin House?" he asked. "They've had a lot of problems with leaks in the bathrooms there."
I kid you not. These are the words with which Dick Nixon greeted a shy and impressionable eighteen-year-old. Not "Smith is a wonderful school. You must be looking forward to studying there," or "Julie's had a great experience at Smith so far. I hope you will, too." No. Richard Nixon focused on the plumbing.
At the time, I thought it a very odd comment and decided it must be indicative of Nixon's world view. He was, I concluded, a man mostly concerned with form and not substance, with the mechanics of things rather than their meaning. In light of subsequent events, his casual remark took on a far more ominous quality and seemed frighteningly predictive of Nixon's paranoia about leaks during his Presidency.
As many will recall, the Plumbers was a White House Special Investigations Unit established in July, 1971, whose mandate was to stop leaks of confidential information to the media. The Plumbers was formed in response to the leaking of the Pentagon Papers by Daniel Ellsberg. Its members went on to commit many clandestine and illegal acts, including the Watergate break-in.
Back in September, 1967, Richard Nixon's presidential aspirations were barely a blip on the public radar. But even though I felt awed at the time to meet such a famous personage, I was struck by the weirdness of the man. History has confirmed my reaction, and then some.
Part Two: Dinner Chez Nixon
After Richard Nixon departed for the Harvard Club, Julie suggested that Tricia, she, and I repair to her bedroom, where we could chat until dinner was ready. She led the way to a large room containing two twin beds covered with frilly, feminine spreads. I sat on one bed and Julie and Tricia took the other.
Tricia, a giggly blond, seemed less earnest than her younger sister, who wanted to know all about me—whether I had siblings, how I'd gotten interested in Smith, what I planned to study. Julie's rapt attention to my answers made me feel as if I were a fascinating and important person. Although I attempted to make polite inquiries about her, somehow the conversation was all about me. It was my first experience of Julie's remarkable ability to deflect the focus from herself onto the person with whom she was speaking. Perhaps because she'd been raised in the public eye and subject to media scrutiny her entire life, she'd become adept at directing attention outward, away from herself, a protective mechanism that preserved her privacy.
We had only been in the bedroom a short while when, to my surprise, Pat Nixon joined us. She took a seat next to me on the bed and seemed as interested as Julie and Tricia in hearing about my mundane high school life. And she loved my outfit! She especially admired the black Danskin top and wanted to know where I'd purchased it. She suggested to her daughters that they go shopping with her in search of similar tops.
It seemed to me at the time, and still does, that Mrs. Nixon loved being a mother, loved hanging out with her daughters and their friends, and wanted nothing more than a low-profile life as a wife and homemaker. In the kindly light of Julie's bedroom, Mrs. Nixon's face softened and her smile seemed more natural than the pained expression I came to associate with her television appearances. I don't know whether she'd been invited to the Harvard Club shindig along with her husband that evening, but clearly home is where her heart was.
When dinner was ready, we sat down to eat in the formal dining room, complete with silver candelabra in the middle of the table. The meal was served by Fina Sanchez, the Nixon's Cuban cook. Her husband, Manolo, served as driver and all-around valet to the Vice President (more about Manolo in a future installment). Mrs. Nixon was a delightful hostess, engaging me, along with Julie and Tricia, in conversation about what I might expect at Smith College. Our discussion, thankfully, was more about academics and social life than plumbing.
All would have been completely lovely were it not for the fact that the candelabra, with its glowing candles, was directly between Mrs. Nixon and me. Still on my best behavior, I endeavored to look at Mrs. Nixon while talking to her. My eyes became bleary and I craned my neck in an attempt to see over the candles, leaning first to the right, then to the left, all the while endeavoring to sound intelligent. Mrs. Nixon appeared not to notice anything amiss. I felt too unsure of myself to request that the candelabra be moved.
Having gotten a quick glimpse of the Nixons' lives, I was tempted to draw all kinds of broad conclusions. I gave into that temptation, big time. In the foyer, earlier, I decided Dick Nixon was a man who focused on the inner workings of things at the expense of the big picture. Later, in Julie's bedroom, I saw Mrs. Nixon as the very paradigm of a devoted wife and mother. Now in the dining room, it occurred to me that Mrs. Nixon and her daughters might be as insecure as I about matters of etiquette. It takes a certain amount of confidence to know when to break the rules and move the candelabra.
Overall, my impression of both Julie and her mother was of two genuinely caring individuals. Regarding Tricia, I couldn't tell what kind of person hid behind the giggles, which may have been her defense against invasions of her privacy. As for Richard Nixon, although I believed I'd learned something about his world view, I still felt clueless about the man's own inner workings.
Part Three: Digression—Mrs. Nicely and other Niceties of Smith College
As I began writing this installment, I realized I couldn't describe my experiences with Julie at Smith without first setting the scene. Hence, the digression which follows.
By the time I left for Smith in late September, 1967, I was a nervous wreck. I anticipated entering a rarified world of cultured young women, many of them debutantes, who would be far better prepared for the rigors of college life than I, and probably far better dressed.
To make matters worse, the morning of my departure from Rockville Centre my father threw his back out heaving one of my over-laden suitcases into the car trunk, adding a dollop of guilt to my anxiety—knowing he had a bad back, I should never have let him lift that bag! He was forced to remain at home while my mother and I drove the three hours to Northampton, Massachusetts.
Baldwin House was an ivy-covered, four-story brick building dating from the turn of the twentieth century. It housed 77 students, freshmen through seniors. On arrival, I found myself relegated to the smallest double in the place. I was told by a helpful upperclasswoman that my room had been a maid's room in the days when students brought their maids along with them to school.
Great. I'd been assigned to the maid's quarters. As compensation, however, my roommate, Gloria, and I had a private adjoining bathroom almost as big as our room itself. The other students on our floor shared a communal bathroom at the end of the hall, no doubt one of the leaking facilities alluded to by Dick Nixon.
Gloria was not at all what I'd expected in a Smith roommate. From Castle Rock, Colorado, she was the first high school graduate ever to come east to attend college. I was hardly reassured when, out of earshot of my mother, she informed me that she'd hidden the LSD carefully, so it wouldn't be found and get us into trouble. LSD? I'd yet to try marijuana.
She also informed me that she liked to do barbell exercises on the floor, in the nude, (while slathered with body lotion, I later discovered). She instantly adored my prized possession, a small llama throw rug my father had bought during a business trip to Peru. She pronounced it the perfect spot for her naked barbell exercises.
As we unpacked, Gloria proudly displayed her latest fashion acquisition, a paper dress. (The concept of disposable clothing was short-lived, even for Gloria. Hers wound up on the wall of an Amherst freshman, Rob Cohen, for whom, I assume, she'd taken it off. Famosity requires me to divulge that Rob went on to become a filmmaker, directing such blockbusters as The Fast and the Furious.) Gloria also raved about the Evelyn Wood Speed Reading technique she'd mastered (and which she later convinced me to try, much to the detriment of my comprehension of Plato's Republic).
Despite her oddities, Gloria seemed genial and at least I didn't find her intimidating. My other classmates, however, were a different matter. Though I later learned that my entering class was an anomaly at Smith—the first class in which a majority of students (67%) had graduated from public high schools—at Baldwin House many of the freshman and still more of the sophomores, juniors, and seniors were products of elite private schools.
My anxiety about how I'd measure up induced an acute attack of self-consciousness. In particular, I became excruciatingly aware of the way I spoke—I'd always prided myself on not having a New York accent, but suddenly my vowels were nowhere near proper enough. And the teenage slouch that had always been good enough for Southside Senior High School seemed totally declasse among my fellow Smithees, who, in my idealized view, all stood ramrod straight.
No description of my arrival at Smith College would be complete without mention of Baldwin's housemother, Mrs. Nicely, whose name apparently predestined her for her role as enforcer of genteel comportment. With her white hair and pleasingly plump figure, she was the very picture of a mother in my eyes. I immediately decided that the rebelliousness which had characterized my teenage years and made my actual mother's life miserable could never be allowed to surface with Mrs. Nicely. A mere whiff of her disapproval, I imagined, would send me into paroxysms of shame.
Mrs. Nicely lived in an apartment on the first floor of Baldwin House and presided over dinner every evening and tea on Friday afternoon. In those waning days of parietals, men weren't allowed upstairs and Baldwin House residents were still required to sign out for the evening with Mrs. Nicely and return by 1 a.m. (11 p.m. on weeknights). Such decorum now sounds quaint, even ridiculous. But at the time, I aspired only to master the intricacies of what was known at Smith as "gracious living," which included wearing a skirt to dinner and properly folding one's cloth napkin after meals and returning it to its allotted cubby.
Among my freshman classmates were some who seemed to embody the cultured upbringing I lacked—Kathy, daughter of a Ford executive and graduate of Miss Porter's School in Farmington, Connecticut, whose family lived in the exclusive enclave of Grosse Pointe Farms, Michigan; Pril, who traced her lineage back to the American Revolution and had attended the Emma Willard School; and Liz, fresh from the Madeira School in McLean, Virginia. They were all lovely young women who became my friends, but initially I was convinced that their impeccable credentials made them superior to me.
In truth, several of the sixteen freshmen in Baldwin House were much like me—nice girls from good suburban high schools. We arrived with our Weejuns, our Villager outfits, and our liberal views. And there were also a number of scholarship students who'd had far fewer advantages than me growing up. I eventually realized that we were a diverse group and that I could succeed just by being myself. But during those first anxious days at Smith, I strained to achieve perfect etiquette.
We freshmen had moved in early, along with a few upperclasswomen who helped with orientation, so I didn't see Julie right away. By the time she arrived, I greeted her as a welcome familiar face. We were delighted to discover that we were both taking Geology 101 to fulfill the science requirement. And we found that we had another thing in common—boyfriends at Amherst College. More on that in my next installment.
Part Four: The Squash Connection
In 1967, Smith, like most colleges, published a freshman facebook. This collection of photos helped me and other Smith women identify our peers, but it was of far greater interest to the men of Amherst, Yale, and Princeton, who were looking for dates.
The facebook contained shot after shot of modest-looking young women sporting Peter Pan collars fastened with circle pins. My photo, on the other hand, featured me in a sleeveless tee with a suggestively low v-neck. My long hair appeared tousled and my expression was more come-hither than demure. I'd submitted it in all innocence. I hated most pictures of myself and this was one of the few in which I thought I looked decent.
Apparently as a result of this photo, I began receiving phone calls from total strangers asking me out. But I wasn't even tempted. I already had a boyfriend—an Amherst sophomore named Peter, who had gone to Southside Senior High School with me back in Rockville Centre. We'd even been in the same Spanish class. I'd always regarded Peter as cute but way too immature, despite the fact that he was a year older than me. Then, in December, 1966, I saw him in a whole new light.
Southside had a tradition of inviting recent grads back to meet with seniors and share their college experiences. I'd just been accepted at Smith, early decision. Knowing that Peter attended Amherst, only a few miles down the road from Smith, I was mildly curious to hear his impressions of college. But when he showed up, looking dashing in a brown suede jacket and exuding a newfound confidence, I felt intrigued. With his wavy black hair and crooked smile, he really was handsome, I decided. He'd even grown a bit taller. But that oh-so-cool jacket clinched it. I was smitten.
A few days later, he asked me out and by the time his winter break ended and he returned to Amherst, we were a couple. When I arrived at Smith the next fall, his presence nearby represented a small island of security in my sea of anxieties. I wasn't about to jeopardize that for a few facebook dates.
The year before, Julie had her own facebook problems. Apparently, on viewing her photo, some men at Amherst and other schools thought it would be a lark to go out with the former Vice President's daughter. As a result, she got countless calls from guys who probably had no real interest in getting to know her. She could never be sure, but her natural self-protectiveness led her to assume the worst.
Imagine what a relief it was to hook up with Amherst student David Eisenhower. David was equal in celebrity and understood exactly what Julie was going through. Their romance took off. And here's where the squash connection comes in. David and Peter were both on the Amherst squash team. Hence, Julie and I knew what it was to hover inside the chilly corridors overlooking the squash courts while our boyfriends wacked a hard little ball inside a claustrophobic cubicle.
This connection led to at least one double date and gave Julie and me a common bond. Few of the freshmen and sophomore women in Baldwin House had steady boyfriends and even fewer were dating guys from Amherst. In fact, some felt condescending toward the little college down the road. I remember one senior remarking haughtily that she only dated Yale men. This struck me as odd, since it was a much more arduous trip to New Haven than to nearby Amherst.
I wanted to be with Peter as much as possible. He felt the same way, except for a few things that took priority—squash and tennis matches, squash and tennis practices, hanging around with his Deke fraternity brothers, even schoolwork. Given that I would drop anything to spend time with him, whereas he made time for me only when it was convenient, I was usually the one traveling the nine miles between our two schools.
Before one of my visits to Amherst, Julie asked me a favor. David had a history paper due that day, but was away from campus and had given the paper to Julie for delivery. Could I drop it off at his professor's office? Of course, I said yes. During the ride over I struggled with the temptation to read what he'd written and, without too much hesitation, gave in. While I can't remember the exact subject of the paper (something to do with American history), I do remember my reaction to reading it. It was an okay effort, not terribly well-written. I believed I could have written something at least as good, maybe better.
But this was David Eisenhower, grandson of the President! Since famosity had me in its grip even then, I was awed by David's lineage. Wasn't he guaranteed by birthright to be a superior student? The realization that he was merely competent bowled me over. For the first time since I arrived at Smith, I felt that I might actually belong there.
Part Five: Rocks for Jockettes and Winter Weekend with Jocks
Like generations of college students, I regarded the introductory geology course at Smith as an easy way to fulfill my science requirement, so I signed up. Julie evidently felt the same way. She had avoided science altogether during her freshman year, but now also opted for geology. We often walked to class together, across the leafy campus to Burton Hall, where Professor Burger, a newly-minted PhD, held forth on the wonders of the earth's history as told through its rocks.
Having no expectations that I'd enjoy the class, I fell in love with geology. Professor Burger, wiry and energetic, with an engaging smile, exuded zeal for his subject, which included the very terrain around us. He waxed positively poetic as he described the Connecticut River oxbow in Northampton (made famous by Thomas Cole's painting, The Oxbow, now at the Metropolitan Museum of Art in New York). Over thousands of years, he explained, sedimentary deposits on one bank and simultaneous erosion of the other had shifted the river to form a graceful arc. His account of these processes only deepened my appreciation for the oxbow's natural beauty.
And who wouldn't be dazzled to learn about violent volcanoes, powerful earthquakes, and glaciers that marched inexorably across continents? Julie, for one. While I lapped up every lecture and adored the labs where we committed the names of rocks to memory (mica, chlorite,quartz, feldspar . . . a near-infinite list), Julie struggled to understand metamorphism and other basic mechanisms that shaped the earth. She was a history buff but her enthusiasm apparently didn't extend to the history of the planet itself. She preferred to focus on the Founding Fathers.
Back at Baldwin House, Julie often sought me out in the foyer as we waited for Mrs. Nicely to lead the way into the dining room for dinner. Ever solicitous, Julie took her responsibilities as "big sister" seriously and wanted to make sure I was adjusting well to college life. And when Mrs. Nixon came to visit one fall weekend, she surprised me by going out of her way to find me and say hello.
Julie's discomfort with geology soon showed up in her quiz results. While I was getting A's, Julie was barely passing. She asked if I would tutor her, to which I gladly agreed, delighted to find a means to repay her continuing kindness toward me. As fall gave way to more wintry New England weather, we began our tutoring sessions and continued our walks to class. One morning, the temperature dipped below zero. Clad in my mother's old racoon coat, I joined Julie for the hike to Burton Hall, a trek made memorable by Julie's moist eyelashes, which froze solid in the frigid air—a vivid, if momentary, demonstration of the power of ice to transform the landscape.
After Christmas vacation, as exams approached, I climbed the stairs one evening on my way to Julie's room. We'd arranged to meet and go over the class materials. Julie was sitting on the carpeted hall floor outside her room, talking on the hall phone (no one had their own phones in those days, let alone cell phones). The phone's cord barely reached around the corner from its connection point in the little hall kitchenette.
Julie sounded upset. I lingered awkwardly for a moment and was about to return to my room when Julie asked me to wait just a minute. She managed to drag the phone inside her room and closed the door. Even through the door, though, she sounded more and more distressed as the conversation continued. Then I heard her say "Hold on," and the door opened.
"Are you going to Winter Weekend with Peter?" she asked. I said I was.
"Are you planning to stay overnight?"
"Yes," I answered.
Looking like she was about to burst into tears, Julie again asked me to wait, retreated into her room, and closed the door. When she re-emerged, she told a tale with a political twist all its own.
Some background: During my freshman year, women at Smith still required parental permission to stay out overnight. However, parents could sign a blanket release allowing their daughters to take overnights at their own discretion. My parents had signed such a release but Julie's hadn't. Also, women still weren't permitted to stay overnight in the Amherst dorms. For special weekends, they normally rented rooms from local residents. Quaint as it may sound today, I had made arrangements to rent a room for Saturday night of the upcoming Winter Weekend, whose festivities would extend far beyond the normal Smith weekend curfew of 1 am.
All these restrictions would go out the window by the following year as the cultural revolution took hold, but in the meantime, Julie had a dilemma. David wanted her to take an overnight on Saturday so they could party late into the night along with everyone else. The small supply of available rooms in town having already been rented, he proposed putting her up at the Amherst Motel, on Route 9, a short distance from the college.
When I arrived at her room, Julie was on the phone with her mother, entreating her to give permission for the overnight. While not unsympathetic, Mrs. Nixon saw a major potential problem. Her husband's campaign for the 1968 Presidential nomination had gone into high gear. The last thing he wanted was a story in the newspapers about his daughter spending the night in a seedy motel with the former President's grandson. No matter that the motel wasn't particularly seedy and that David would gladly have said goodnight at the door. Even the possibility of scandal was too much to risk. Despite Julie's avowal that "even Barbara is allowed to stay overnight," Mrs. Nixon regretfully decided that Julie could not.
Clearly, fame had its price. Never had obscurity seemed so appealing to me as when I happily packed my bag for my overnight at Amherst a few weeks later. But as much as Julie may have disliked having to sublimate her wishes to her father's ambition, she also supported that ambition and believed in him passionately.
Part Six: Catching Rides with Manolo as Nixon Rides to the Presidency
During the late sixties, limousines were an uncommon sight on the roads. If one drove by, it invariably aroused curiosity, since limos were then generally used only by V.I.P.'s—Presidents, movie stars, and the like. When Julie offered me a ride home for the Thanksgiving holiday, it didn't occur to me that I'd be riding in style until the Nixon limo pulled up at the front door of Baldwin House.
Richard Nixon had dispatched his valet and chauffeur, Manolo Sanchez, to transport Julie back to Manhattan. Julie suggested that Manolo drop me off at Penn Station. From there, I could easily catch a train to Long Island. So, off we went, cruising down Interstate 91, chatting about school and holiday plans. All the while, I kept noticing the people in other cars staring at us as we sped by. Just riding in such a fancy vehicle with the daughter of a famous person induced in me a heady, albeit unmerited, sense of self-importance.
In my recollection, Manolo was a bit of a crazy man, or at least a crazy driver. On that trip, he zoomed along at breakneck speed and made it to Manhattan in record time. But, the next time I hitched a ride home with Julie, Manolo managed to get totally lost in the wilds of Westchester. He kept insisting that he knew where he was going as he careened from one exit to the next. I began to fear we'd wind up in Pennsylvania, with Manolo protesting all the while that everything was fine. Despite his faulty sense of direction, Manolo remained with Richard Nixon throughout his Presidency, serving as his valet.
During that second ride, before Julie and I had to focus on getting Manolo back on track to Manhattan, we talked about her father, who was busy campaigning for the Republican Presidential nomination amid rising anti-war sentiment. Julie said he had received a number of unsolicited letters from soldiers at the front, voicing their support for him and their confidence that if Nixon were elected, he would find a way to end the war honorably.
I was quite moved by this conversation. Not because I thought Nixon would really end the war if he were elected, nor even because I was touched by the soldiers' naive faith in his ability to bring about peace with honor. What moved me was Julie's passionate belief in her father's goodness. I thought her confidence in him was misplaced, but it was impressive all the same.
Back at Smith, Julie survived geology and Professor Burger urged me to select it as my major. At the time, I foolishly thought pursuing subjects that came easily was tantamount to cheating and instead gravitated toward the ones that came hardest. I never took another geology class and wound up majoring in English.
At the end of first semester, Gloria and I switched roommates. We separated amicably and, as a parting gift, I gave her my llama rug, which she'd made good use of during our sojourn together. My new roommate was tidy and quiet, but moody. In retrospect, I missed Gloria's weirdness, accompanied as it was by her invariable good humor. At the end of freshman year, I learned that she'd managed to flunk out of Smith, no mean accomplishment, as the college bent over backwards to help its students succeed. My next (and last) sighting of Gloria occurred in the mid-seventies, when I was married and living in Palo Alto, California. I ran into her on the steps of the local Post Office. She told me she'd just arrived from Hawaii, where she'd been living. She had a job selling Shaklee Vitamins—a healthy progression, it seemed, from the drugs she'd been into back at Smith.
My freshman year marked the last time I shared a dorm with Julie. The following fall, she took first semester off to campaign for her father, then married David Eisenhower in December, 1968, shortly after Nixon's election. When Julie returned to Smith, she and David moved into an apartment across the street from Baldwin House, so I still saw her from time to time. She occasionally came over to Baldwin House for dinner, which created quite a stir, given that she was accompanied by Secret Service agents, who sat discreetly at other tables. I remember one dinner in particular, when a handsome young agent sat at my table. I found him articulate and pleasant, except for a few odd moments when I asked seemingly innocent questions, only to watch his demeanor stiffen as he replied, "Sorry, that's classified," in a clipped voice.
A few years later, as Watergate unfolded, I sometimes told friends the story of meeting Richard Nixon and his odd remark about the plumbing in Baldwin House. They often urged me to do an expose of Julie and her father, but I could never bring myself to write such a piece. I simply liked Julie too much and didn't want to take advantage of her friendship. A lot of time has passed, and I offer these chronicles as part of my personal history. I hope if Julie ever comes across them, she'll read them in that spirit.
---