More Letters!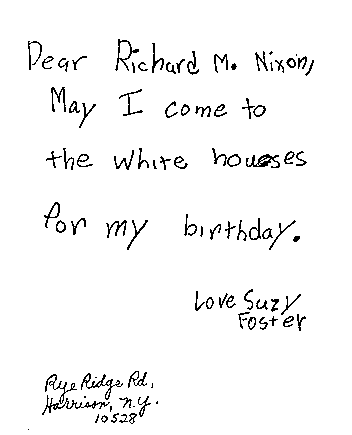 Dear President Nixon:

We are in second grade. We hope you like being President. If we could vote, some of us would vote for you. From you friends, Classroom 104.

P.S. We read about President Lincoln getting a letter from a little girl saying he would be better looking with a beard. All 24 of us took a vote, and 19 hope that you never grow a beard.

P.S. Number Two. We are sending you some picture of how we think you would look.


Dear Mr. President R. M. Nixon,

I am only 9 years old and are trying to help this country too. I hope I don't make any arors because I'm supposed to be a straight a student.


My dear Mr. President:

I heard on television that you are going to give a dinner on August 13th for the astronauts in their honor.

I am 11 years of age. I would be highly elated if you would please invite me to the dinner. My greatest wish would be to be in your presence and be able to praise Mr. Armstrong, Collins an Aldrin for their accomplishment. I would truly like to see and touch them myself.

Excuse me, but if I am invited I must have one or both of parents with me as I am too young to be alone.



Dear President Nixon,

I am six years old, and I'm in the first grade.
Whin is your birthday and do we get that day off like we do George Woshingtons and Abe Lincoln.


Dear President Nixon,

I saw you on t.v. your wife is very pretty. So are your daughters. Our school room got to watch you sworen in.

P.S. I'm going to do what you said. I'm going to talk softly so people will listen to my words especially my brother.


I wonder if you'd please do something for my mother.

You see, every morning after my two brothers wake up to go to school, they leave their room a big mess.

I would like to know if you would please declare my brothers' room a disaster area?


My zip code number is 19512. I saw you and Dwight D. Eisenhower in the paper yesterday. Dwight D. Eisenhower was President when you were Vice-President.


I bet my friend, Gilbert, a dollar that you would win and Gilbert bet that Humphrey would win. Please win because I only have 40 cents.