Richard Nixon's Tribute to His Beloved Pat
by author and historian Carl Sferrazza Anthony
(Editor's Note: Late on Monday afternoon, April 18, former President Nixon suffered a major stroke at his home in Park Ridge, N.J. Rushed to New York Hospital-Cornell Medical Center, he died there four days later.

Shortly before he was stricken, Mr. Nixon worked with Good Housekeeping magazine's writer, Carl Sferrazza Anthony, on this tribute to his wife, Pat. "It's a story I want to have told," the former President said. We are glad to have been given the chance to tell it.)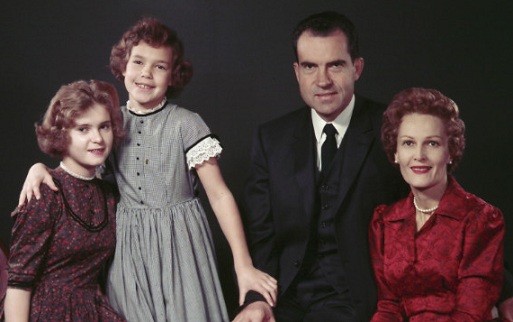 IN DECLINING HEALTH FOR YEARS, former First Lady Pat Ryan Nixon died of cancer at home in Park Ridge on June 22, 1993, just one day after the fifty-third anniversary of her marriage to Richard Nixon. Almost a year after her burial, the former President, who had in the past been accused of treating his wife coldly in public, spoke tenderly about her in private:

"Let me tell you about the real Pat—the Pat I knew and loved for over half a century. She was beautiful and intelligent and wise. She loved her family. She loved people. Not just the American people, but the thousands of people she met in our travels to Asia, Africa, Latin America, and Europe over the past 40 years. She loved a good time. She knew how to make us laugh. She always brought sunshine into a room.

Above all, she was strong. Just before going on TV in 1952 for the Fund Broadcast [this became known as the "Checkers" speech; during the '52 vice-presidential campaign, Nixon took to TV to defend himself against charges that a slush fund had been set up for his personal use], I turned to her and said, 'I don't think I can do this one.' She grasped my hand firmly and said, 'Yes, you can.' And I did.

In 1974, when I went into shock after an almost fatal operation, the first person I saw when I finally opened my eyes was Pat. She had been sitting by the bed for hours. As she had 22 years before, she took my hand and said,'Yes, you can,' and I did. Had it not been for Pat, I would not have made it politically or physically.

She never gave up. After her stroke in 1976, her left arm was paralyzed. Some said she would never recover its use. They did not know her. I can see her now, on the patio of Casa Pacifica (the Nixons' California home), in the early morning hours, turning an exercise wheel again and again and again. She completely recovered. If you had seen her in later years, you would never have known she had suffered a stroke. She healed herself. No one did it for her.

In the final, and at times excruciatingly painful, two months of her life, she never gave up. She refused to use a wheelchair. She kept saying over and over again, 'I don't want to be a burden. I have to try to walk. I must try to get well.'

She always thought of others, not herself. One of her closest friends was stunned when she got the news. She said that she had talked to Pat on the phone the Friday before the end, and that Pat was upbeat and cheerful, that they had some good laughs together. Instead of talking about herself, she kept asking her friend about how she felt.

Tricia (Cox) and Julie (Eisenhower) are splendid examples that despite her having a public schedule, Pat was a fine mother. She was a remarkable grand-mother. When Jennie (Eisenhower) who is now 15, was old enough to talk, she asked Pat what she could call her. Pat thought 'grandmother' sounded too old and formal. She said, 'Call me Ma.' When Jennie asked me, I said, 'Anything would be okay.' After all, I have been called everything! So she called me 'Ba.' And so it was that Jennie; her brother Alex; sister, Melanie; and her cousin, Christopher (Cox), called us 'Ma and Ba.' We were their close friends, not distant grandparents.

How would Pat like to be remembered?

Seventy-six years ago in the little house where I was born in 1913, I used to hear the train whistle in the night and dream of places far away I hoped to visit someday.

I have always been fascinated by trains. My favorite campaign was in 1952. It was the last whistle-top campaign. As the train pulled into the station, Jack Drown (a close friend) would put a recording of the campaign song on the public-address system. Some may remember the lyrics—'I Like the Sunshine of Your Smile.'

Above all, when you think of Pat, I hope you will always remember—the sunshine of her smile. She would like that."


For nearly 20 years, Good Housekeeping readers chose Pat Nixon as one of the 10 most admired women in the world. Some people were astounded that a woman who remained out of the public eye for a decade and a half could still be held in such affection. The reason was no mystery to the former President:

"Most people, even if they are basically happy, do not have an easy life," he said. "Some have had disappointments, others have suffered defeats. Many have experienced tragedy. Pat related to these people and they to her."

Mr. Nixon clearly recalls the moment when he first saw Pat Ryan. It was in 1938, when he had auditioned for a part in a Whittier, Calif., amateur-theater production. "I thought I knew everyone in Whittier," he said, "but that night a beautiful and vivacious young woman with titian hair appeared. I had never seen her before. I found I could not take my eyes away from her. This new girl in town was Pat Ryan, and she had just begun teaching at Whittier High School.

For me it was a case of love at first sight. I got a friend to introduce us and then offered them both a ride home. On the way, I asked Pat if she would like a date with me. She said, 'I'm very busy.' I said, 'You shouldn't say that, because someday I am going to marry you!' We all laughed because it seemed so unlikely at that time. But I wonder whether it was a sixth sense that prompted me to make such an impetuous statement."

Pat Ryan and Richard Nixon were married on June 21, 1940.


Perhaps the one moment which remains most misunderstood regarding the Nixons happened on August 9, 1974, when he resigned from the presidency. As his entire family gathered behind him in the East Room, President Nixon delivered his farewell speech. In it, he fondly recalled the influence and guidance of his strong mother, Hannah Milhous Nixon, but he did not mention his wife, for which he was roundly criticized.

According to a long time Nixon aide, such criticism "is the ultimate injustice, and also shows ignorance of the emotional content of that moment. President Nixon knew that everyone in his family, himself included, was struggling to keep their composure. Had he mentioned Mrs. Nixon or their daughters, he knew she would have broken down. And then everyone would have."


The project of enduring interest to Mrs. Nixon in her last years was the exhibits and accessibility of the Nixon Library's museum in Yorba Linda, Calif. An aide recalls a visit from the Nixons in 1989 when the museum was being planned. There was to be a room devoted to Pat. "Mrs. Nixon told us, 'I don't want a room. The museum is about Dick, not me.'

"President Nixon saved the day by replying, 'Now Pat, you are a lot more popular than I am. Our visitors will insist on seeing your story.' She smiled and relented. And the Ambassador of Goodwill exhibit is one of the most popular in the museum."

Part of Pat Nixon's legacy also lives in the lush gardens of the Nixon Library, which were landscaped according to designs approved by her. It is there that Mrs. Nixon—and now, her husband—rest side by side amid a beautiful perennial garden blooming with roses.

For several years, some petals of the Pat Nixon Rose, which is in this garden, have mysteriously appeared very briefly for a few days around the time of Mrs. Nixon's birthday (March 16). They have then fallen, and the rose has bloomed in full a few weeks later, along with the rest of the rose bushes. This first year without her, the Pat Nixon Rose nevertheless bloomed once again in March.
from Good Housekeeping magazine (July 1994)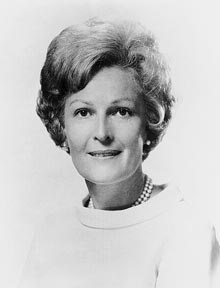 Patricia Ryan Nixon
1912-1993

Carl Sferrazza Anthony is the author of First Ladies: The Saga of the Presidents' Wives and Their Power (1961-1990), Volume II (1991). He is also the author of America's First Families: An Inside View of 200 Years of Private Life in the White House, published in 2000.



---